RSSI Network Operation Centre (NOC) provides 24 hours a day, 7 days a week monitoring and maintaining of all RSSI network components (including routers, leased lines to sites, interconnection links, dialup service, telecommunication equipment and etc.) from Network Operation Centre Interconnect Facility at Space Research Institute RAS in Moscow.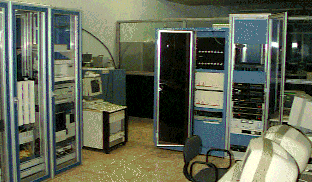 Racks with telecommunication equipment located at special
telecommunication area.
RSSI NOC staff coordinates with:
NASA Internet NOC to isolate and resolve circuit, routing hardware and/or software failures;
Russian networks NOCs to isolate and resolve circuit, routing hardware and/or software failures;
Circuit providers to isolate and resolve circuit failures;
LAN Administrators of sites
Network analyst monitoring RSSI configuration from monitoring room.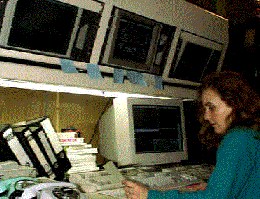 RSSI Monitoring Room.
RSSI NOC identify network failures through:
NMS alarms and monitoring tools
Troubleshooting tools (traceroute, ping, nslookup and etc.)
Router interface statistics
Reports of other NOCs
User reports and calls
Tools for RSSI Network Management includes:
Network Monitoring Tools:

Spectrum v3.1 Cabletron Systems network management software
ZyView v2.5, ZyXEL modem monitoring software
Locally developed software for monitoring dialup connections



Database Management Tools:


Action Request System 2.0 Remedy database software



Web-based NOC Information Service
Operations Contact Points

If you have problems with RSSI network services, contact NOC staff by e-mails or calls.
Svetlana Belova, RSSI Network Manager,
Technical Support, Planning, Requests & Including,
phone: 7-095-3333467
e-mail: sveta@iki.rssi.ru

Olga Starostina, NOC Manager,
Network Monitoring Services
phone: 7-095-3333523
e-mail: sta@iki.rssi.ru

Oleg Revin, Network engineer
Telecommunication Equipment Support,
phone: 7-095-3334113
e-mail: oleg@iki.rssi.ru

Victor Kiranoff, Unix Hosts Administrator
DNS Support & Postmaster
phone: 7-095-3333467
e-mail: vk@iki.rssi.ru

Kirill Samoylov, Network engineer
User Support
phone: 7-095-3333467
e-mail: myxa@iki.rssi.ru

Dmitry Gordeev, Hardware engineer
Cabling System Support,
phone: 7-095-3334113
e-mail: taisa@esoc1.iki.rssi.ru

RSSI Monitoring (24 hours a day / 7days a week)
phone: 7-095-3333523
e-mail: noc@iki.rssi.ru
Network analysts Staff:
Vera Belova
Olga Strelova
Tatiana Sutiagina
Elena Sicheva
Elena Timonina
Galina Juravleva
AUP History Members Interconnections Map Topology Circuits Management Sites Administration HomePage
Updated: 06/25/97
Copyright © RSSI 1993-1997, Space Research Institute RAS Network Information Centre